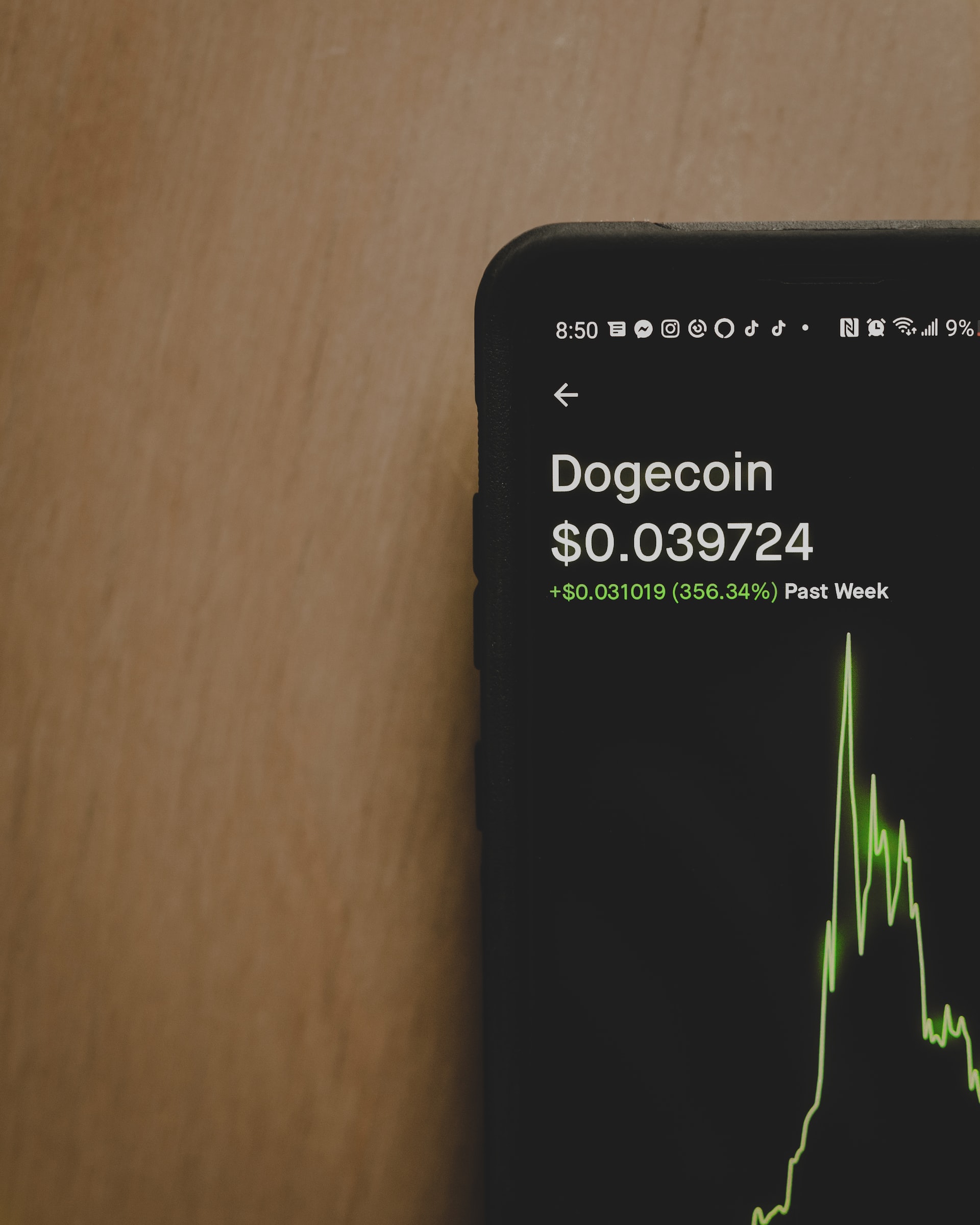 Dogecoin is still one of the most widely traded cryptos. This article is for you if you want to learn how to invest in this popular virtual currency in 2022.
Not only will we show you how to buy Dogecoin through an SEC-regulated broker, but we'll also analyze if this meme coin is worth adding to your investment portfolio.
What Is Dogecoin?
Dogecoin is a cryptocurrency that stems from the Litecoin blockchain.
To mine new coins, Dogecoin uses a Proof of Work consensus technique, which necessitates the use of specialized mining equipment. To reward miners, discourage hoarding, and keep transaction costs low, the supply of Dogecoins is infinite. However, this implies that the currency is inflationary. Despite its origins as a joke, Dogecoin has grown in popularity among investors as a viable alternative to other big cryptocurrencies.
The History of Dogecoin
Dogecoin, in summary, is a cryptocurrency that was invented and launched in 2013 by Jackson Palmer and Billy Markus. The project began as a form of satire against cryptocurrencies such as Bitcoin. The founders of Dogecoin created a meme coin modeled on a Shiba Inu dog. For many years, Dogecoin was regarded as a joke for several years, with the coin's value struggling to keep up with the wider virtual currency market.
Dogecoin's value, on the other hand, began to skyrocket in early 2021.
This is mainly due to Elon Musk's (CEO of Tesla) announcement that he owns an allotment of Dogecoin in addition to Bitcoin and Ether.
Having such a well-known public figure legitimize Dogecoin did wonders for the coin's value.
Elon Musk, in fact, continues to promote Dogecoin in a good light, not only on Twitter but also in a number of live television appearances.
Additionally, each successive mention of the cryptocurrency had a beneficial impact on Dogecoin's price.
How Much Is Dogecoin?
Dogecoin's price is currently sitting at 0.14 USD (at the time of writing).
The value of a single Dogecoin varies during the trading day, depending on market conditions. This means that if the overall crypto markets are bullish, Dogecoin will almost certainly rise in value.
In the end, peoples' opinion on Bitcoin frequently determines this. Therefore, if Bitcoin does well, the rest of the market will also do well.
Likewise, if Bitcoin performs poorly, it has the desired effect of pushing the rest of the market, including Dogecoin, down with it.
The value of Dogecoin is usually expressed in US dollars, making it simple to monitor the performance of your investment.
Dogecoin, on the other hand, might be quoted at various prices on different crypto exchanges. Regardless, these price discrepancies will rarely exceed a few micro percentage points.
What You Need to Buy Dogecoin
To buy Dogecoin, you need to register with a crypto exchange, which is a place where buyers and sellers meet to trade cryptocurrencies for dollars. eToro, Coinbase, and Binance are reputable exchanges that offer an easy-to-use, simple interface with higher costs and a more advanced trading platform with lower fees. You also need to make sure that you have the minimum deposit to start buying Dogecoin.
These exchanges all provide a secure and convenient way to invest in Dogecoin – one of the reasons being that they all accept USD payments by credit or debit cards and wire transfers. Moreover, many of the most undervalued cryptocurrencies are available on these prominent crypto exchanges, allowing you to diversify your investment portfolio while maintaining tight spreads.

Quick Guide to Buying Dogecoin
If you want to purchase Dogecoin from the comfort of your own home, the section below will guide you through the quick process with eToro.
The fact that you only have to risk $10 every trade is one of the reasons we favor this broker for purchasing Dogecoin. Furthermore, fees are quite low, and deposits in USD made with credit or debit cards do not have a fee.
Decide Where to Buy Dogecoin
The first thing you need to do is decide which broker to use. Here's everything you need to know if you've chosen eToro.
We looked at numerous online crypto exchanges and brokers and discovered that eToro is by far the best site to acquire Dogecoin and other top altcoins. The fact that eToro is regulated by the SEC and licensed with FINRA is the most significant factor to consider when selecting a broker.
Furthermore, you will be relieved to learn that the platform is also regulated by licensing agencies in Australia and Europe, providing you with additional protection. Whether you're a seasoned veteran or a total novice, you'll appreciate the fact that eToro has some of the lowest trading fees in the industry.
To begin the Dogecoin investment procedure, you must first create an eToro brokerage account. Unlike typical brokerage services, eToro accounts can be created in a few minutes.
To start, provide your basic personal information and select a username and password that are appropriate for you. To go to the next step, enter and verify your cell phone number and email address.
Verify Your Account
After that, you'll need to get your account verified to finalize the registration procedure. Upload a driver's license or passport, which will be verified in a minute.
Make Your Purchase
You can deposit money into your eToro account without paying any transaction fees now that your account has been verified. E-wallets such as PayPal and Neteller, as well as bank wire transfers and ACH, are accepted.
With that said, using a credit or debit card — eToro accepts MasterCard, Visa, and Maestro – is probably the quickest option to deposit money. As a US-based user, the minimum deposit amount is only $10.
Now, you can find Dogecoin. All you have to do is type the name of the virtual currency into the search field, as seen below.
Then, when Dogecoin appears, click 'Trade' to make your purchase.
Consider how much money you want to risk on Dogecoin and type it into the 'Amount' field on the 'Buy DOGE' screen.
To confirm that you want to purchase Dogecoin, click the 'Open Trade' option. The tokens will subsequently be added to your eToro asset portfolio.
While there is currently no option to buy Dogecoin stock on eToro, it does list 'meme stocks' such as AMC and Gamestop, which have had relatively similar ROI bull swings to the meme coins SHIB and DOGE.
Think About Storage
You should now know the best approach to buy Dogecoin for your specific needs after reading this section of our tutorial.
It's now time to consider storage options. To put it another way, how do you plan to keep your Dogecoin tokens safe and secure from illegal access?
The first alternative is to download a private digital wallet that provides non-custodial protection.
In its simplest form, this means that you will be solely responsible for the security of your Dogecoin wallet.
You'll be the only person who has access to your private wallet keys if this is what you want.
This is appealing to investors who want complete control over their virtual currencies.
Having said that, we believe that storing your Dogecoin coins on the eToro online wallet is just as secure. This is due to the fact that eToro is a regulated organization that has been approved and licensed by the SEC and other regulatory bodies.
As a result, you can rest assured that your DOGE coins are in good hands. The process of withdrawing your DOGE coins will be significantly easier if you choose eToro rather than a private wallet.
How to Trade Dogecoin
There's a difference between investing in Dogecoin and trading Dogecoin. Trading this digital asset means that you speculate on its price and make a profit or loss based on whether your predictions were correct or not.
Here's how to trade Dogecoin:
Step 1 – Finding a Broker
When considering how to trade Dogecoin, the first critical step is to select a reputable online broker that can provide both transparency and security in all of your transactions.
You may trade Dogecoin in exchange for other virtual currencies on third-party cryptocurrency sites. However, such exchanges are unlikely to have a license from a regulatory agency; thus, this alternative should be avoided.
If you decide on a regulated platform, your interests as a trader will be safeguarded, and your funds will be safe.
Step 2 – Fund Your Account
After you've created your account with your chosen broker, you'll need to finance it. Choose your preferred payment method from the broker's list of options.
Depositing money with a credit or debit card or an e-wallet such as PayPal is the quickest way to do it.
You can also use a bank wire transfer; however, the money may take one to three business days to reflect in your trading account – it may take longer in certain cases.
Step 3 -Begin Trading
You now have a trading account and funds with which to begin trading. All you have to do now is make your first Dogecoin trade.
Trading orders specify how you intend to enter the crypto market to your chosen broker.
Dogecoin Buying Methods
If you've done your homework on the pros and cons of investing in Dogecoin and are ready to make a purchase, you'll need to decide which payment method to use.
Let's have a look at the most popular methods:
Buy Dogecoin with PayPal
Another alternative for purchasing Dogecoin quickly is to use an e-wallet such as PayPal. Fees for buying Dogecoin using PayPal in the United States vary greatly based on the broker or exchange you choose.
If your PayPal account is valued in US dollars, eToro doesn't charge any fees. However, Coinbase charges 3.99% when you deposit funds with PayPal.
Buy Dogecoin with a Credit Card or Debit Card
The ideal way to purchase cryptocurrency, such as Dogecoin, is with a credit or debit card. This is because it offers security, speed, and convenience.
When using this payment option, brokers such as eToro allow you to deposit funds immediately, irrespective of whether you want to use MasterCard or Visa.
However, you should be aware that several Dogecoin brokers impose large fees for credit and debit card transactions, so double-check before opening an account.
Binance, for instance, charges 4.5%, while Coinbase, at 3.99%, is slightly more affordable. The good news is that eToro doesn't charge any fees for credit or debit card payments if they're made in US dollars.
Dogecoin Forecast
If you spend some time looking up Dogecoin forecasts on the internet, you'll find a lot of articles and videos claiming that the digital asset's value is about to skyrocket.
Price predictions, on the other hand, are not extremely reliable when it comes to studying cryptocurrency valuations, particularly for speculative coins such as Dogecoin.
You could be tempted to look for bullish information that confirms your belief that Dogecoin's value will climb in the coming months or even weeks. However, it's best to conduct your own analysis in order to make an informed investing decision.
Remember that for every good Dogecoin price prediction, there will almost certainly be an opposing one.
Therefore, you should make your own Dogecoin investment decisions based on fundamental data about the technology, partnerships, its use cases, and the overall performance of the crypto market.
Conclusion
No detail has been overlooked in this beginner's guide to investing in Dogecoin. We've covered the best places to acquire Dogecoin in terms of exchanges and brokers and the steps you need to take to make your investment with the SEC-regulated site eToro.
To create an eToro account and start investing in Dogecoin coins immediately, all you need is $10. Furthermore, the investing process takes only a few minutes, thanks to the low-cost broker's fee-free service and quick credit or debit card payments.
Related articles:
Risk Disclaimer
AllIn1Bitcoins works diligently to offer impartial and trustworthy data on cryptocurrency, finance, trading, and stocks. Nonetheless, we are unable to furnish financial counsel and encourage users to undertake their own inquiries and due diligence.