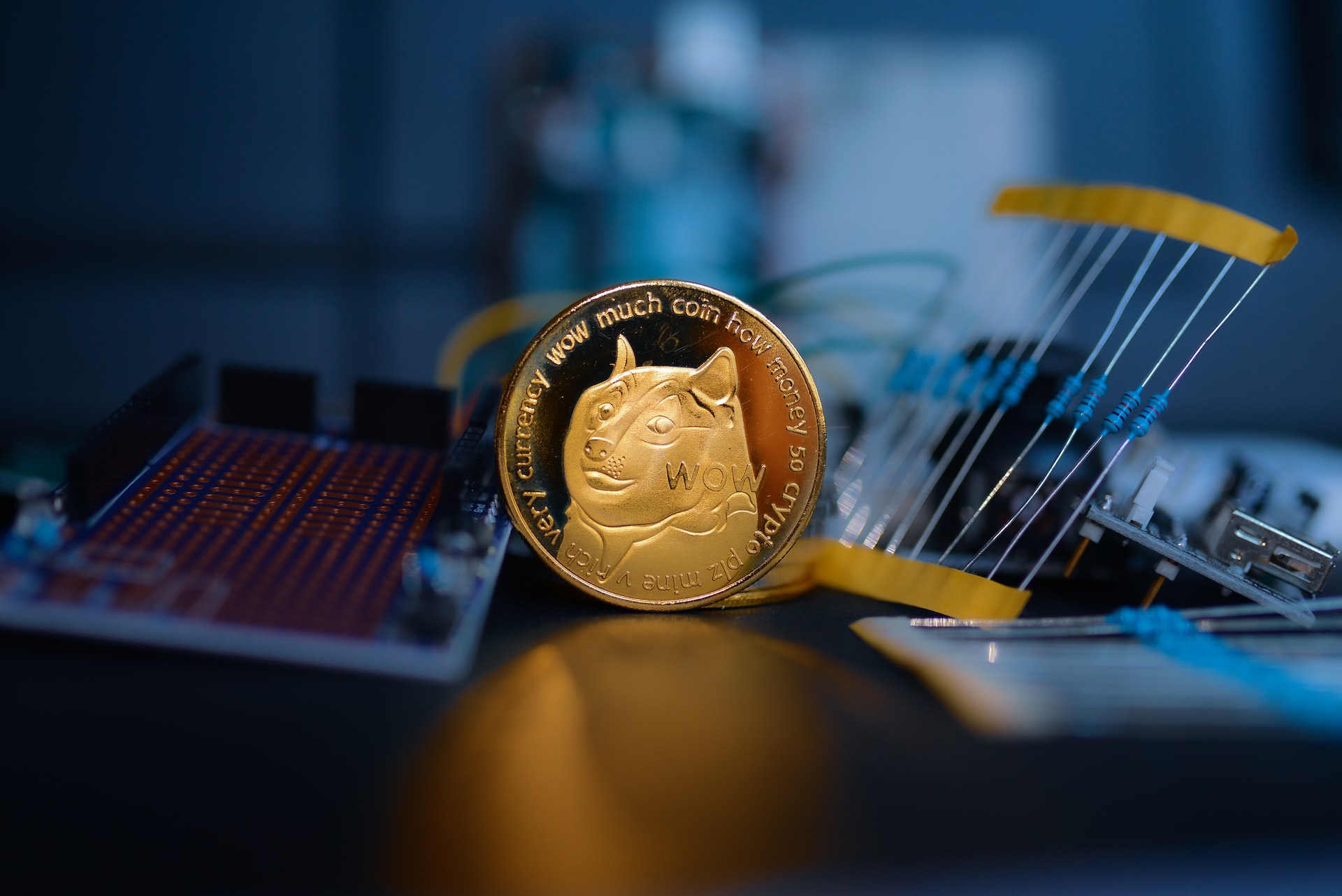 Dogecoin (DOGE) is a cryptocurrency that two software engineers created as a joke. What started as a joke has grown to become a popular crypto asset. If you're hoping to purchase Dogecoin in Australia, you'll find that the process is pretty straightforward. 
We'll explain the process of buying Dogecoin in Australia using an ASIC-licensed broker in our guide.
If you've never purchased Dogecoin or used a crypto exchange before, choosing a crypto exchange can be challenging!
We've done our research to bring you a list of the best places to buy Dogecoin in Australia. They are:
Crypto.com
Binance
eToro
Swyftx
CoinSpot
This exchange is perfect for long-term investors looking to build a well-balanced portfolio. We recommend this platform for long-term investors since it supports a range of crypto assets and even offers a savings account.
How to Buy a Dogecoin Using Crypto.com
Follow our step-by-step guide below to buy Dogecoin with Crypto.com.
Step 1: Create and Verify Your Account
To set up a Crypto.com profile, go to Crypto.com and click on the Google Play Store or the Apple Store logos in the top right corner of the screen.
Next, download the Crypto.com app on your device. Create your account by providing your email address and selecting a password for the app. Your name, identity documents, and a picture of you are used to verify your new Crypto.com account.
Step 2: Top Up Your Account
Before making a purchase, you'll need to deposit money into your account. Crypto.com offers Australian users several popular payment methods to do this, including bank transfer, PayID, and BPAY.
Go to the dashboard and select "deposit." Choose your payment method and complete the transaction as prompted.
Once you have successfully deposited funds, you can use them to buy DOGE on the app. When you have successfully exchanged your fiat currency for Dogecoin, you can use it on the platform for trading or store it in a crypto wallet.
Crypto.com Pros
The platform makes it easy to convert currencies
Low transaction fees
Great option if you intend to use your crypto to make payments
Strong security
Crypto.com Cons
Poor customer support
The platform is difficult to navigate
Binance is famous among traders and investors worldwide because of its low fees and high liquidity. Furthermore, the site features over 1,000 trade markets, including numerous crypto-cross and crypto-to-fiat pairs that include DOGE.
How to Buy a Dogecoin Using Binance
Here's how to buy DOGE with Binance in Australia:
Go to the Binance website and click "Get Started." You will be redirected to the signup page. Sign up using your Apple or Google profile or complete the online form.
Choose an option and follow the prompts to create an account. Upload documents as requested so that the site can verify your account.
Deposit funds into your account using a bank transfer, debit, or credit card.
Before you can buy Dogecoin, you will need to buy Bitcoin first. Using P2P trading, convert your fiat currency to Bitcoin. Transfer the amount to the seller, and the Bitcoin will be released into your USDT P2P wallet. Next, you will need to transfer the BTC from your USDT wallet into your SPOT wallet.
Step 4: Look for DOGEUSDT Pairs
Search for DOGEUSDT pairs, select one, click "Buy," enter the amount you're willing to spend on Dogecoin, and click "Buy DOGE."
Binance Pros
Large number of supported cryptos
Low purchase fees
Several additional services offered
Binance Cons
Account verification isn't as seamless as it is with other platforms
eToro is undoubtedly one of the best exchanges for buying Dogecoin in Australia. It is approved and regulated by the ASIC, SEC (US), FCA (UK), and CySEC (Europe). The platform also makes purchasing Dogecoin easy, and you'll need just 14 AUD to get started!
How to Buy Dogecoin Using eToro
This exchange is a great platform to use if you're on a tight budget. Follow the steps below to buy Dogecoin on eToro.
Step 1: Setup Your Account
The first step is creating an account on the eToro exchange. Head over to the platform's website and click "Start Investing" to get started. Complete the registration form by entering your name, email address, phone number, and zip code. You'll also be asked to create a username and password for your account.
Next, you'll need to be verified. eToro ensures that all its users are verified to comply with Know Your Customer (KYC) requirements. You will be asked to submit proof of your address and identity. This should take a few minutes, and your account will be verified and ready to use.
Before you can purchase Dogecoin, you'll need to fund your eToro account with a minimum of 14 AUD. You can do this using bank transfer, PayPal, Mastercard credit or debit card, Skrill, or Neteller.
Once you have funded your account, you can then make your purchase. Select Dogecoin from the list of cryptocurrencies and enter the amount you wish to buy. You will then have Dogecoin in your eToro account! If you don't intend to use it right away, we recommend transferring your DOGE to a digital wallet for safekeeping.
eToro Pros
User-friendly platform
Easy signup
Offers users access to over 30 cryptocurrencies, including Dogecoin
Low minimum deposit
Approved and regulated by four regulatory bodies
eToro Cons
Non-US residents pay a currency conversion fee
You will pay an inactivity fee if you don't use your account
Swyftx is one of Australia's leading brokers and a reliable and respected platform that has attracted more than 500,000 users. Anyone can use AUD to purchase, trade, and sell over 290 cryptocurrencies on a secure and user-friendly exchange.
How to Buy a Dogecoin Using Swyftx
If you're wondering how to buy Dogecoin on Swyftx, you can follow the steps we've listed below.
Visit the Swyftx website and click on "Signup" to get started. Complete the online form by entering your name, country of residence, phone number, and email address. You will also need to create a password for your Swyftx account.
Step 2: Verify Your Account
Upload documents as requested to verify your account. Although this process is often instant, keep in mind that it could take up to 30 minutes.
You can use several methods to deposit funds into your Swyftx account. They are:
POLi
OSKO transfer
PayID
Credit card
Bank transfer
Make a deposit into your account using Swyftx's website platform or via the mobile app. The minimum amount that you can deposit is 30 AUD.
Step 4: Purchase Dogecoin
Now that you have set up your account and transferred funds, you can buy Dogecoin. On the dashboard, click "Buy," select Dogecoin from the list, enter an amount, and make the purchase!
Step 5: Transfer Your Dogecoin to a Digital Wallet
Once you have Dogecoin in your Swyftx account, you can use it to trade. However, if you have purchased the cryptocurrency as an investment and prefer to hold on to it as it grows in value, you will need to transfer it to a digital wallet.
You can choose to set up a software or hardware wallet. While hardware wallets are more secure and are not prone to hacking, they can be quite expensive compared to software wallets.
Link a supported wallet with your Swyftx account to make the transfer. Click on the "Withdraw" option on the dashboard and the "+" button. Add your supported wallet and follow the prompts to transfer your funds into your digital wallet.
Swyftx Pros
When you sign up, you get a welcome bonus
Several deposit/withdrawal methods to choose from
Intuitive mobile app
Easy to use
Quick verification
Swyfx Cons
Customer support isn't always efficient since there are so many users
It may take a while for you to get used to the platform
CoinSpot, a crypto exchange situated in Melbourne, provides a safe and trustworthy platform for buying and selling cryptocurrencies. Many regard CoinSpot as one of the best crypto exchanges in Australia.
How to Buy a Dogecoin Using CoinSpot
Here's how to buy DOGE on this platform.
Step 1: Signup for an Account
Sign up for an account by clicking on "Register" on the CoinSpot homepage. Complete the registration form and verification process as prompted.
Next, make a deposit into your CoinSpot account using one of the following payment methods:
You can then enter the amount of AUD you wish to use to purchase DOGE and click "Buy." To view or use your DOGE, click "Go to DOGE Wallet."
CoinSpot Pros
Easy-to-use interface
210 crypto coins supported
It offers a multicurrency wallet
CoinSpot Cons
You cannot use a debit or credit card for purchases
Buying Dogecoin in Australia is much easier than you might think! There are some great platforms out there to help you quickly and easily convert your Australian dollars to Dogecoin. Follow our step-by-step guide to buy Dogecoin in Australia in just minutes. We hope you found this tutorial helpful!